Polynt-Reichhold
Polynt-Reichhold is an integrated global leader in composites, coatings resins and intermediate and specialty chemical polymers.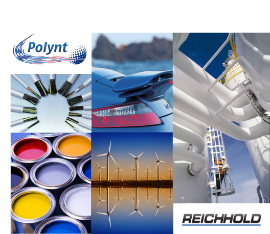 The Group is a global company with more than €2 billion in revenues, 37 manufacturing facilities and is a leading global vertically integrated specialty chemicals player, with significant presence both in Europe and North America, a strategy initiated by Polynt with the successful integration of PCCR and CCP in the last five years and now further reinforced by Reichhold's global scale, extensive product portfolio and R&D competencies.
The end markets are primarily construction, electric/electronics, transportation and, to a lesser extent, household applications, paints and sporting goods. Polynt-Reichhold's products mainly consist of anhydrides, plasticisers, resins and compounds all of which are derived from the transformation of crude oil and virgin naphtha into maleic, phtalic and trimellitic anhydrides. These are then partly used internally to produce specialty products such as special anhydrides, resins, plasticisers and compounds, and partly sold externally.
The Group's excellence in serving large multi-national customers is demonstrated by the fact that the 10 largest customers all have more than 10-year long relationships with the Group.
Business:
Industrial Manufacturing
Country:
Italy
Exit date:
Nov 2021
Company
website:
www.polynt.com