Karrimor
Leading British outdoor brand, specialising in adventure sports equipment suitable for everyone from the novice to the professional mountaineer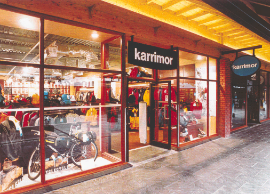 Karrimor (www.karrimor.com) is a leading British outdoor brand, specialising in adventure sports equipment suitable for everyone from the novice to the professional mountaineer.
Launched in 1946, Karrimor began life quietly by founders Charles and Mary Parsons along with Grace Davies, who hand-sewed cotton-duck cycle pannier bags from the upstairs of their Lancashire cycle shop. Karrimor have since built an international reputation for outstanding outdoor clothing, rucksacks and footwear.
Their pioneering purple 'Haston Alpiniste' rucksack of the early 70's became the most famous alpine sac ever, and they found themselves at the forefront of the footwear revolution in the 1980's with the introduction of ksb outdoor footwear, the first range made with lightweight fabric. Their current team is made up of professional outdoor experts and elite adventurers who have design input into the Karrimor collections as well as the opportunity to test equipment in the harshest conditions which is important for Karrimor as their equipment is selected by some of the world's most accomplished mountaineers.