CEME
CEME is a global leading manufacturer of highly engineered and precision fluid control solutions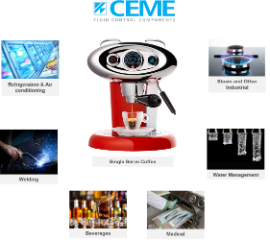 Established in 1974, CEME is now a leader in solenoid pump and solenoid valve production in Italy and throughout the world.
Over the years, the company has diversified its product range to include solenoid pumps, solenoid valves, pressure switches, flow meters and other components to properly control the passage of any type of fluid: water, gas, steam and air.
CEME is renowned for its technical engineering know-how, quality, flexibility and for the distinctive ability to develop innovative solutions for customers in both Italian and international markets.
CEME is headquartered in Trivolzio (Pavia) and manufactures in three highly automated factories, two of which are in Italy and one in China.
Business:
Industrial Manufacturing
Country:
Italy
Date of
investment:
Feb 2018
Turnover:
€160 million
Number of
employees:
900
CEO:
Roberto Zecchi
Company
website:
www.cemegroup.com
follow us